PLF CEO FORUM 2022 Concurrent Session E:
"INFLATION & THE MALAYSIAN CONSUMER"
PANELLISTS:
Mr Lee Heng Guie, Executive Director, Socio-Economic Research Centre (SERC)
Mr Firdaos Rosli, Chief Economist, Bank Islam Malaysia Berhad
Dr Shahridan Faiez, Advisor on Economic Matters, Consumers' Association of Penang
MODERATOR: Dato' Dr Vaseehar Hassan Abdul Razack, Associate, The Kets de Vries Institute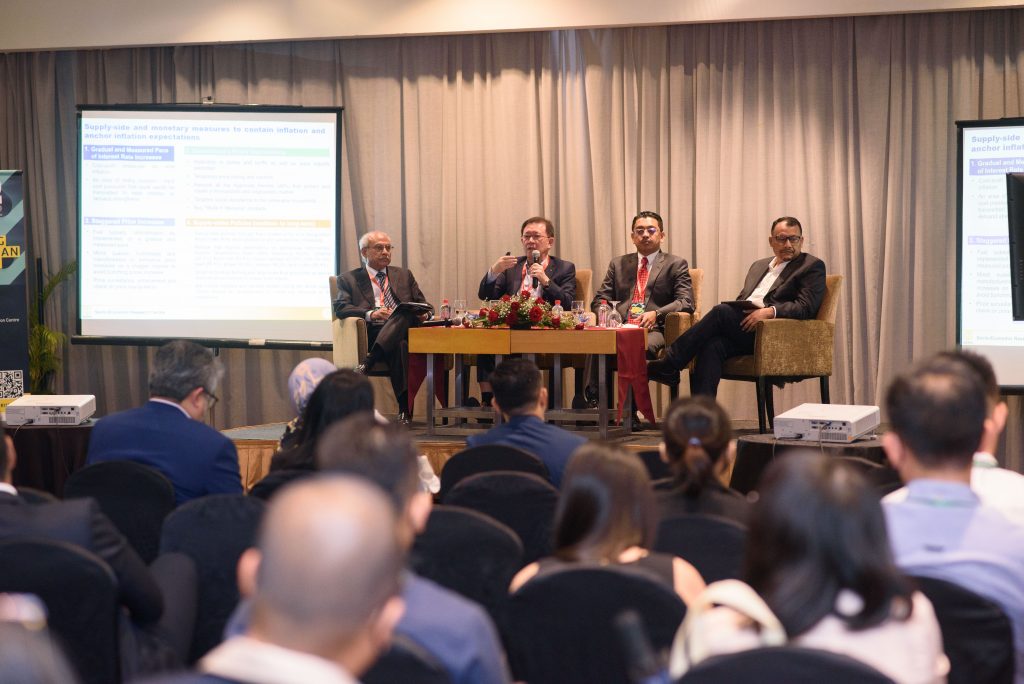 In this session, the panellists discussed about inflation and the Malaysian consumer. The moderator, Dato' Dr Vaseehar Hassan Abdul Razack, spoke that while inflation is becoming a global issue, we are more fortunate in Malaysia compared to the US and Europe. While Mr Lee Heng Guie agreed that government subsidies has kept inflation in Malaysia at manageable levels, he voiced his concerns that the subsidies are unsustainable. Mr Lee shared how the Malaysian government or central bank could formulate policy to mitigate the impact of rising prices. A targeted subsidy should also be considered, where aid is provided for people who are truly deserving of help.
The session continued with Dr Shahridan Faiez highlighting the social impact of inflation. He emphasised that different social groups would feel the pain differently, with the impact hardest on the low-income group and unemployed. He suggested that more innovative approaches should be taken to help these communities improve their livelihood. Mr Firdaos Rosli shared some statistics on inflation in Malaysia and globally. He pointed out how unemployment rates in Malaysia has fallen, but inflation has risen. The major culprit of the latter, he said, was the rise in the price of crude oil due to the Russian invasion of Ukraine.
The panellists concluded that the government needs to allocate resources more efficiently with targeted subsidies, a proper accountability framework as well as robust delivery system.
 "Hopefully, the new government will have some pragmatic economic policies that will not hurt people while not over-indulging in giving handouts."
Dato' Dr Vaseehar Hassan Abdul Razack
 "We don't want an "inflation scare", when people expect their earnings to buy less in future because prices are expected to go up. Consumers need to know how to adopt smart spending habits to maintain an acceptable standard of living." Mr Lee Heng Guie
"As far as Malaysia is concerned, we have to decide as a nation what sort of economic model is best for us. When it comes to subsidy targeting, the keyword is not 'subsidy', but 'targeting' because there is a tendency for governments to either under- or over-target."
Mr Firdaos Rosli
"My conclusion (on inflation) is that one, it's about people. Two, we need to recognize that different people are affected differently. Three, we need to pay more attention to the mechanisms (of policy) because very often what is articulated doesn't get translated on the ground."
Dr Shahridan Faiez