PLF CEO FORUM 2022 Concurrent Session A:
"ROBOTS AND METAVERSES: HARNESSING TECHNOLOGY FOR BUSINESS GROWTH"
PANELLISTS:
Ts. Mahadhir Aziz, Chief Executive Officer, Malaysia Digital Economy Corporation (MDEC)
Ms Aireen Omar, President (Ventures), Capital A
Mr Amir Zakwan Anuar, Chief Strategy Officer,Aerodyne
MODERATOR: Datuk Dr Hamzah, Co-Founder & Chief Executive Officer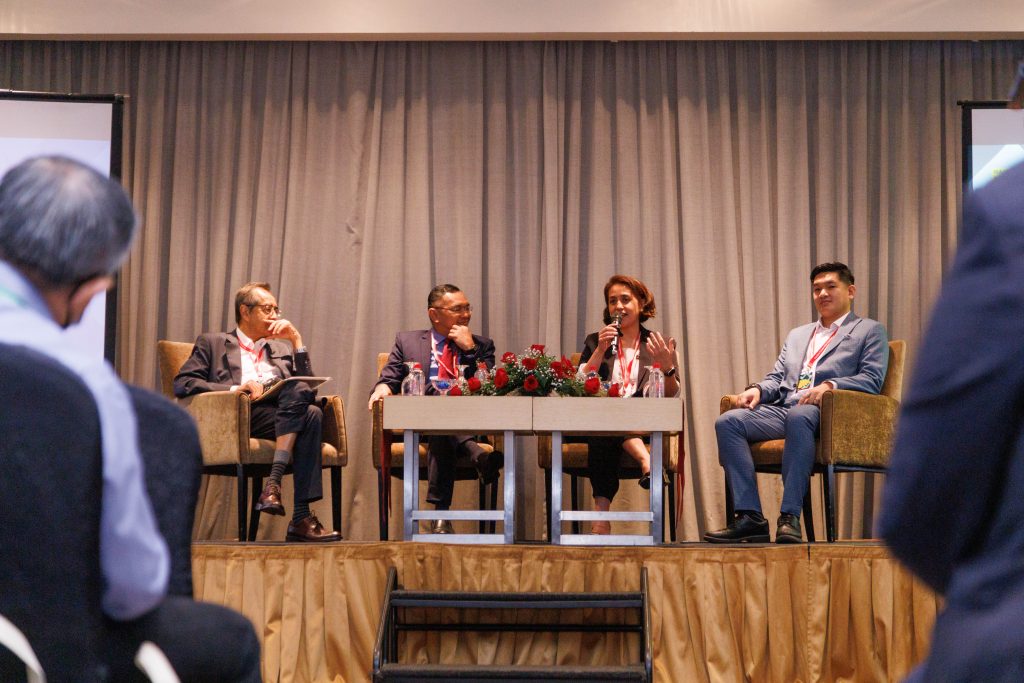 Moderator Datuk Dr Hamzah Kassim of The iA Group, opened the session with a background of the metaverse and how it and the digital space has developed in the last few years. With the current inflationary environment and the threat of a future recession, countries are turning towards the digital universe for new sources of growth.
Mr Amir Zakwan Anuar of Aerodyne said that his company is building a metaverse which is a digital reality to help their clients manage assets in a virtual space without having to be on-site. Aerodyne is also in the defence industry, providing defence technology in terms of surveillance, intelligence, and border monitoring. He stressed that Aerodyne's focus is on building defensive, not offensive, tech.
MDEC CEO, Ts. Mahadhir Aziz, elaborated on the role of MDEC in accelerating and assisting digital adoption by businesses in Malaysia, especially with the metaverse or virtual worlds on the horizon. On the question of grants to the industry, he highlighted that MDEC is looking into existing grants and other assistance, and may consider restructuring them to better fit present and future needs.
On tech talent, Ms Aireen Omar of Capital A commented that high-demand industries and skills related to metaversebuilding such as UI, UX design, cybersecurity, and cloud infrastructure still lack talent, which is needed if Malaysia is to be competitive regionally and globally. She also noted that metaverse technology could allow for quality education to be widely accessible by its sheer scalability.
The panel concluded that the impact of technology such as the metaverse on business is positive, as it could take businesses to the next level of growth.
"I think the first step is identifying and accepting that it (the metaverse) is a concept that you're building applications on. If we were to look at it from an automotive point of view, to be simplistic, the metaverse is like your internal combustion engine. You need to build an internal combustion engine first,
then you can build a car, or an aeroplane, or a helicopter. It's both down to the metaverse, which is an enabler, and the applications that will be built on it."
Mr Amir Zakwan Anuar
"I think in terms of Artificial Intelligence (AI), we have to come up with a plan. We have the national AI roadmap…but we have to really look at what we have, and what we should do with it. I'm leaning towards coming up with big and significant projects for people to participate in. For example, if we take the metaverse or web 3.0 or even AI, and leverage the strengths that we have within the creative content, animation and other industries, where do we go from there?"
Ts. Mahadhir Aziz
"Technology should be accessible to all, not just a few. It needs to be affordable and the entire population should have easy access to it. We talked about the metaverse and big data, but the knowledge and applications are probably accessible to only 10% or less of the population. So, there are still many
things to be done, such as building skills to fill the demands of IR 4.0. There is high demand for even basic skills such as digital marketing, not to mention product UI, UX design, cybersecurity and cloud infrastructure. We don't have enough talent and many corporations are importing talent which is not sustainable."
Ms Aireen Omar
"We are facing some very strong winds of recession and inflation. At the same time, various countries are looking for new sources of growth…The metaverse is at a very critical earlystage development but once it gets adopted, it will impact many sectors of the economy, including shopping, live entertainment, education, health and fitness, digital media, virtual real estate, and the NFT sector. When it comes to the metaverse, we are still in the conceptual stage, but many countries have begun to invest in this new area."
Datuk Dr Hamzah Kassim