PLF CEO FORUM 2022 Keynote Speech:
"GLOBAL CONFLICTS AND THEIR IMPACT ON MALAYSIA"
KEYNOTE SPEAKER
Dato' Dr Shazelina Zainul Abidin, Director-General, Institute of Diplomacy and Foreign Relations (IDFR), Ministry of Foreign Affairs
MODERATOR
Dato' Vaseehar Hassan, Associate, Kets de Vries Institute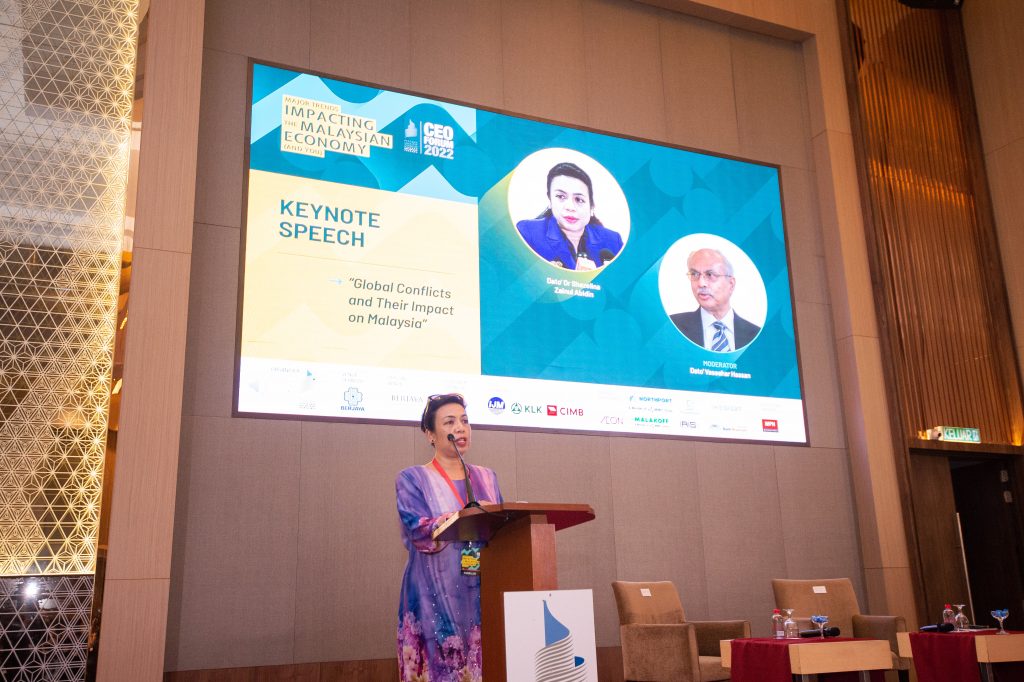 No man is an island, goes the quote. The same applies to countries and businesses, especially in today's hyper-connected world. A major conflict in one part of the world will have repercussions throughout the globe, especially economic ones, which means business leaders need to be vigilant and prepared. To provide some understanding on Malaysia's stand on international conflicts, PLF invited Datuk Dr Shazelina Zainul Abidin, the Director-General of IDFR, to deliver a keynote address on "Global Conflicts and Their Impact on Malaysia".
Datuk Shazelina explained that in its 65 years as an independent nation, Malaysia has managed to steer away from conflict, despite being an active nation on the global stage (by 2004, Malaysia had established more than 100 diplomatic offices in countries spanning the globe, an indication of its seriousness in becoming an international player). However, as a small trading nation, global conflicts will affect Malaysia as they disrupt supply chains and resource availability.
"Conflicts will always have a negative impact. The only ones that benefit from a military conflict are those that supply arms to the warring factions. Since Malaysia doesn't, it is in our best interest to stay away from conflict, to not be drawn into a conflict by choosing one side over another, especially when we don't have to. In political terms, we call it a non-aligned stand. We are not hedging our bets – we just don't want to be the mousedeer caught in between the two elephants," Datuk Dr Shazelina said.
"Relations is the link that Malaysia has with either the country in conflict, or a country that is severely affected by the conflict. Malaysia trades with nearly all the countries in the world, including territories that are not sovereign. It has consistently been in the list of the top 25 largest trading nations in the world. Even if Malaysia does not have close relations with a country in conflict, it is bound to have relations with a country that is suffering from the spillover effects of that conflict, and that, will of course affect trade, investments and other links that we may have with the country concerned," she elaborated.
In the dialogue that followed with moderator Datuk Dr Vaseehar Hassan, both speaker and moderator agreed that as no country can remain completely insulated from the shocks of any major conflict, diversification is key. Since the 1980s, Malaysia has diversified its markets and supply chains while politically, it has sought to expand its circle of friends. It was also important to understand that while the United Nations exists to be a stabilising factor in geo-politics, conflicts will continue to occur in the world, hence nations and businesses need to have alternative plans in place.