PLF CEO FORUM 2022
"MAJOR TRENDS IMPACTING THE MALAYSIAN ECONOMY (AND YOU)"
Opening by Tan Sri Azman Hashim, Chairman, Board of Trustees, Perdana Leadership Foundation
Plenary Session:
"MALAYSIA'S SIGNPOSTS AND HOTSPOTS THE NEXT DECADE'S TRENDS AND GROWTH AREAS"
PANELLISTS:
Tan Sri Che Khalib Mohamad Noh, Group Managing Director, MMC Corporation Berhad,
Mr Eqhwan Mokhzanee Muhammad, CEO, AmBank Islamic Berhad,
Dr Nungsari Radhi, economist
MODERATOR: Dr Yeah Kim Leng of Sunway University.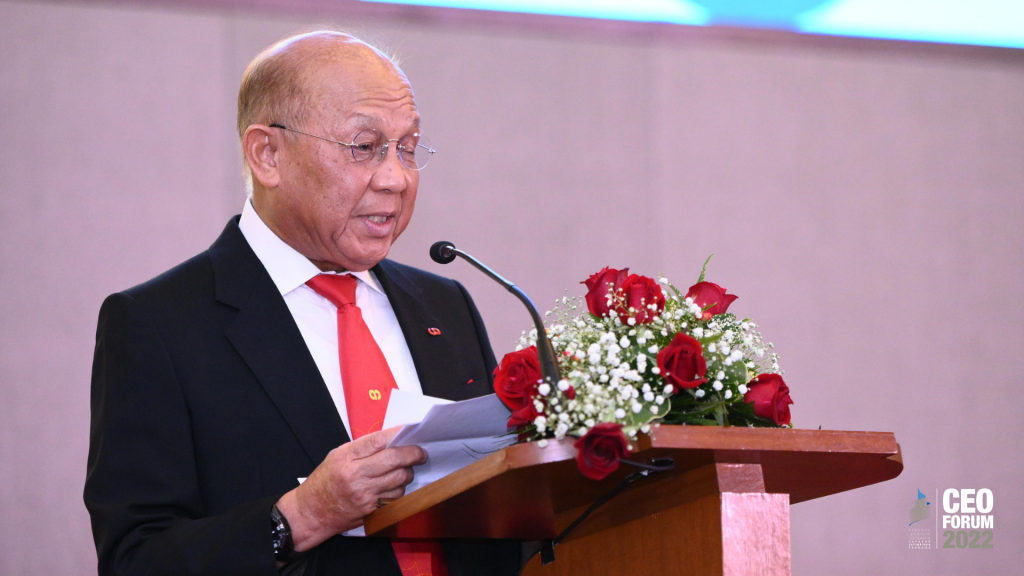 More than 300 business leaders and senior executives attended the PLF CEO Forum 2022, themed "Major Trends Impacting the Malaysian Economy (and You)" on 1st November 2022 at the Berjaya Times Square Convention Centre in Kuala Lumpur. The 2022 Forum was PLF's first in-person event after three years, and featured more than 25 CEOs and senior leaders in nine keynote and concurrent sessions dealing with various challenges of the Malaysian business community.
The Forum opened with opening remarks by PLF's Board of Trustees Chairman, prominent banker Tan Sri Azman Hashim. He pointed out that while Malaysia has good economic fundamentals, there are headwinds impeding economic progress, such as the Russia-Ukraine war, inflationary pressures, China's economic slowdown, and our domestic political uncertainties. As in the past, the Malaysian business community has a role to play in terms of strengthening the economy and in providing input to the government on policy issues.
"The Malaysian business community plays a huge role in strengthening, fortifying, and reviving the economy. The PLF CEO Forum is where the business community can gather to discuss issues of common concern, such as economic policies, business trends, inflation, and the environment, as well as identify sectors that are growing in importance such as technology and logistics. With each Forum, (PLF) documents the points raised and compiles the notes for reference by policymakers," Tan Sri Azman added.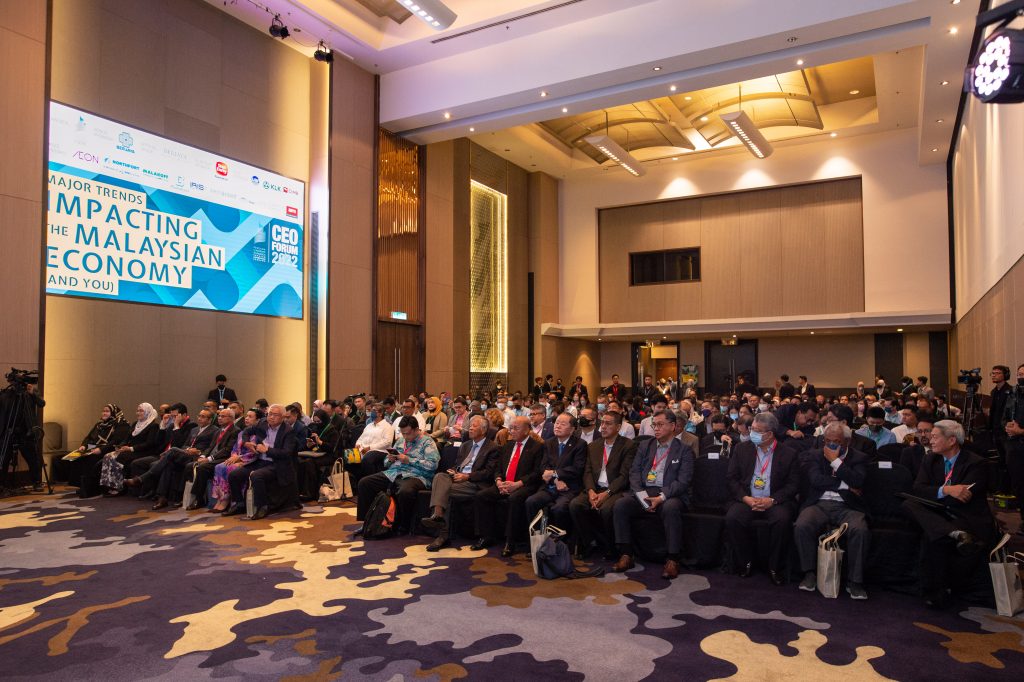 The opening remarks were followed by a lively Plenary Session "Malaysia's Signposts and Hotspots the Next Decade's Trends and Growth Areas" featuring Tan Sri Che Khalib Mohamad Noh, Group Managing Director, MMC Corporation Berhad, Mr Eqhwan Mokhzanee Muhammad, CEO, AmBank Islamic Berhad, and economist Dr Nungsari Radhi. The session was moderated by Dr Yeah Kim Leng of Sunway University.
Dr Yeah Kim Leng provided a background of the economy in his first remarks, pointing out that while Malaysia achieved a commendable 3.1% growth in 2021, its rate of growth was slower when compared with more advanced economies. He was confident of a more robust outlook for 2022, and solicited the views of the panelists as to the direction of the Malaysian economy.
The first panelist to weigh in was Tan Sri Che Khaleb who stressed that for real growth to take place, there has to be proper implementation of plans and ideas. He pointed out that for many of the country's issues, whether economic or otherwise, the solutions are available, but there needs to be full commitment to see the ideas through. Tan Sri also alluded to the cost of doing business. Malaysia was a country with enviable resources and strategic strengths including good infrastructure, he said, but all these would not be sufficient to attract high-quality investments to Malaysia if the cost of doing business remains high.
Economist Dr Nungsari Radhi elaborated on the financialisation of the global and Malaysian economy, to the extent that there is a dichotomy between the real economy and the monetary side. The chasm leads to inequity in terms of wealth distribution, he pointed out. In Dr Nungsari's view, Malaysia needs to grow its real economy and generate higher demand, and the best way to achieve this is for trade to increase, especially when Malaysian businesses to venture abroad.
Banker Eqhwan Mokhzanee Muhammad focused on the main trends he believes will shape the economy going forward: climate change as part of wider ESG (Environmental, Social and Governance) initiatives, digitalisation, and structural changes arising from Covid-19. Mr Eqhwan believes that growth areas for Malaysia are in logistics, financial services, renewable energy, and healthcare.
The moderator wrapped up the discussion with a reminder that there is more uncertainty and ambiguity in the world, and for Malaysia to thrive in the coming era, we need to have the right institutions, the right infrastructure, and most importantly, the right policies.
Dr Yeah Kim Leng
"I would like to echo what Tan Sri Azman Hashim has mentioned about the current economic developments and the challenges we are facing. We have been recovering since the pandemic downturn in 2020, when the economy experienced
its second-largest contraction in Malaysian economic history. For this year, our recovery is in full swing. We have a fairly robust outlook for 2022. But based on the movement of the Global Purchasing Managers' Index (PMI) which dipped below 50.0 recently, headwinds are gathering."
Tan Sri Che Khaleb
"People envy Malaysia for many reasons. One, Malaysia is strategically located. Number two, we have all the resources that everybody wants, including oil and minerals. And the third is that, no matter how critical we are of our education system, we have plenty of educated people in this country. What we need to do (to succeed) is put these strengths together and harness the advantages that we have. But investors will move away from Malaysia when the cost of doing business is too high or doing business becomes too complicated because
there are too many conditions to meet."
Dr Nungsari Radhi
"What has happened, especially since the late 1980s, is that the capital market or financial innovation has grown to the extent that some people would argue that there is a disconnect between the real side of the economy and the monetary side of the economy. Even in a small country like Malaysia today, the total equity and debt market is twice or more of its GDP. Basically, you're saying that you need twice as much equity and debt to produce half the amount of output.
This dichotomy between the monetary and real sides of the economy has resulted in inequity on the distribution side. There are a lot of people on the real side of the economy who have not benefited (from economic growth). That becomes a problem."
Mr Eqhwan Mokhzanee Muhammad
"Currently, one of the key conversations taking place globally is in relation to climate change, specifically in the financial services sector. Traditionally, most banks will extend financing based on credit risk assessments. Today, we are overlaying with either an ESG risk assessment or a climate change classification. When it comes to renewable energy, Malaysia is extremely well-poised to grow in this area. Other growth areas are in healthcare, as we have an established private healthcare sector, financial services especially with Islamic-based banking
and digitalisation of services, and logistics."