The Top Three Priorities for a Better Future for Malaysia
The virtual PLF CEO Forum 2021 came to a grand close on 21st October with a Closing Keynote Address by former Prime Minister and PLF Honorary President, Tun Dr Mahathir Mohamad. In a speech that was broadcast live to the Forum, "Top Priorities for an Improved Future", Tun remarked how the Covid-19 pandemic has changed lives in Malaysia and the world, as well as necessitated new solutions.
"It has been nearly two years since the Covid-19 pandemic swept throughout the world. Whether we like it or not, we were forced to adopt and adapt to what we term as the new normal…Having been through quite a few crises in my lifetime, I can say that in facing these unprecedented difficulties we may need to come up with creative and at times, unorthodox ideas, in order to overcome (them)," Tun said.
The top priorities that he believes are important to Malaysia's future, within the context of Business in the New Normal, are: digitalisation of the economy, education, and a clear policy direction from a government that is politically stable.
On digitalisation:
"When the Multimedia Super Corridor was introduced in 1995, not many people imagined that the internet would usher in a new age of high-speed communications. But if there is one thing that the pandemic has taught us it is that we cannot do without the internet. It has created a new power – the power of rapid limitless communications. This new power enables us to communicate with friends, families and business associates, regardless of location and time. This new power enables us to buy and sell to anyone anywhere in the world. The market has no limits…The digital economy is here to stay and our economy must digitalise in order to grow. Digitalisation will enable us to get out of the current crisis sooner."
On education:
"I have suggested – many times – a blend of traditional and video learning. In classrooms, videos featuring subjects prepared by experts can be played. The teacher's role will be mainly to guide the students in their way of learning. This change is akin to the introduction of text books, only the ease of teaching and learning would be far greater. Videos would enable us to employ the best teachers and multiply their reach beyond physical constraints. Children in isolated areas would be able to learn from the same top teachers as students in urban schools. We need to realise that the world has changed dramatically and that our youth no longer want to be taught in the same way that we were taught. It is time to unshackle our education."
On clear policy direction and political stability:
"The Malaysian morale has been badly dented these past two years. The various lockdowns, confusing SOPs, mounting infection and death rates, have all taken a toll on the Malaysian psyche. Instead of taking us out of the crisis, we were dragged into it deeper and deeper. It is clear that until and unless the Government gets its act together and stops making decisions for political gains, we will not get out of this rut. We are at a critical point in time when the government needs to inspire confidence, provide clear direction and political stability, and be committed to its vision of establishing a prosperous, inclusive, and sustainable Malaysia."
After his speech, Tun answered questions in a live online session moderated by Datuk Dr Hamzah Kassim, CEO and Co-Founder of the iA Group.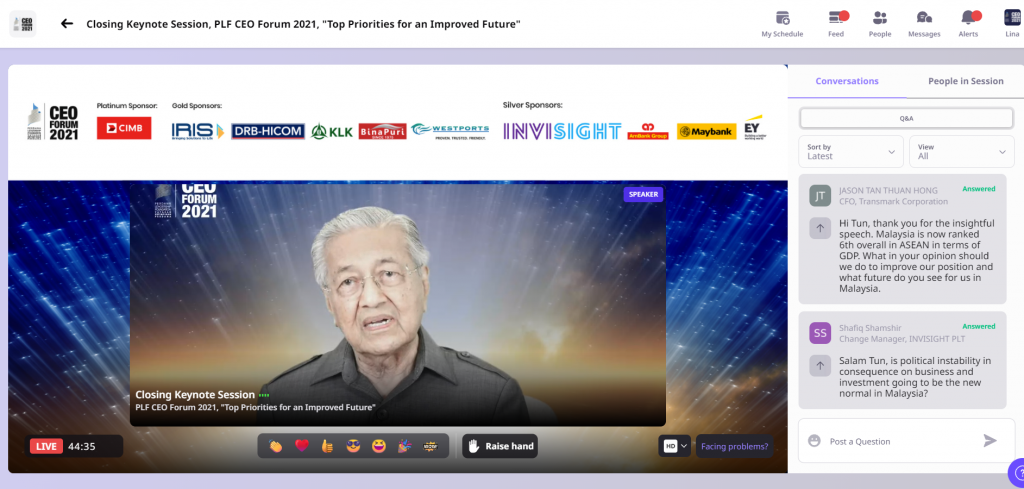 To the question of how to restore decaying trust in government, Tun put it bluntly that, "Today's government must be better informed, must have greater knowledge about new methods of doing things. We find that in many instances, the people who have been chosen are not competent and knowledgeable about new ways of doing things. We find that they are still using old methods which are no longer capable of delivering on the expectations of the people."
When asked whether it is possible for Malaysia to be free of corruption by 2030 as outlined in the National Anti-Corruption Plan, Tun was cautiously optimistic. "I think we can completely eliminate corruption. There would be some corruption but we can reduce it to a tolerable degree. What needs to be done is to have a government that is totally dedicated to eradicating corruption. During elections, do not vote for people who offer bribes or who have a history of bribery. If you do that, bribery will be with us all the time. It is very important that in the next elections, Malaysians choose good people who are clean and who pledge to provide good governance free of corruption. Then, we will be on the way to eradicating corruption by the year 2030."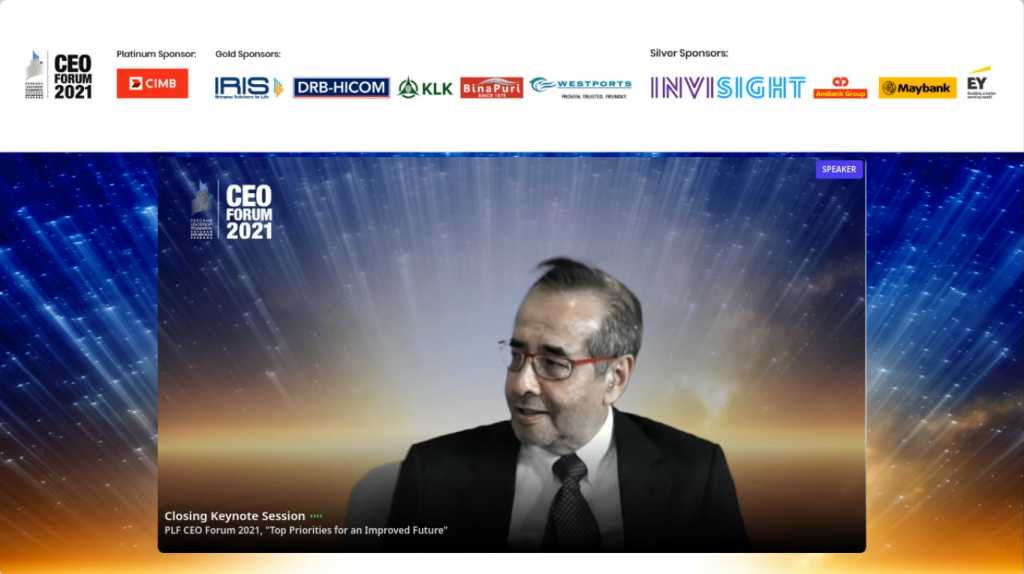 The Forum wrapped up after Tun's live Q & A which was broadcast from Perdana Leadership Foundation. Tun's full speech can be viewed online at https://perdanaceoforum.com/. Each session's notes are also available at the blog section of the website. The edited transcripts of the Forum will be digitally published in March 2022.